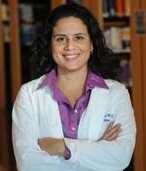 Carmen A. Peralta is a Co-Founder and Executive Director of the KHRC. She is a Professor of Medicine at the University of California San Francisco (UCSF) and is a practicing nephrologist at the UCSF Nephrology and Hypertension Faculty Practice. Dr. Peralta is known for her work in identifying those at risk of developing end-stage renal disease, a condition disproportionately affecting African Americans and Hispanics. She is passionate about reducing race/ethnic disparities in kidney disease. Her work also focuses on understanding the biology of hypertension in high risk groups.
Dr. Peralta has authored or coauthored more than 80 published scientific manuscripts. Born and raised in Barranquilla, Colombia, she emigrated to the U.S. at 17 and received her undergraduate degree from Rice University. She went on to medical school at the Johns Hopkins School of Medicine and was an internal medicine resident at Harvard Medical School and Brigham and Women's Hospital. Dr. Peralta completed advanced training in epidemiology, biostatistics and a subspecialty in nephrology at UCSF. She has been recognized by the Robert Wood Johnson Foundation as one of the most promising Young Leaders in the United States working to improve the health. Dr. Peralta's work is funded by the National Institutes of Health, The Robert Wood Johnson Foundation and the Campini Foundation.
You can see Dr. Peralta's complete faculty profile here.